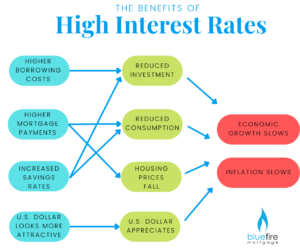 What Is Behind The Increase In Mortgage Rates?
When inflation is on the rise, the Federal Reserve will tighten monetary policy and raise interest rates. This policy change discourages risky trading fueled by low interest rates and a cheap supply of money. Higher rates makes money more expensive and in turn slows business growth.

The immediate response to interest rate hikes is a negative reaction from potential homebuyers as the rate increase generally means borrowing money becomes more expensive. 
Typically lower interest rates are viewed as more beneficial than high interest rates, however there are some unforeseen benefits to homebuyers and ways to take advantage of the new rate environment. Over the past several years, the housing market has been running hot due to a low interest rate environment causing the demand for houses to outpace the limited supply. 
How Can High Interest Rates Benefit Current Buyers?
Higher mortgage rates deter individuals who are looking to purchase investment properties and lowers the pool of qualified buyers. This pushes buyers who were previously thinking of buying off the fence decreasing demand and in turn stabilizing or even decreasing home prices. What does this mean for home buyers?

Less buyers means less competition, and a better shot at making it through the bidding wars that have been plaguing the housing markets in most major cities 

Stabilization or even lowering of home prices

Less investors are searching for investment properties in a higher interest rate environment, causing less bidding wars

When interest rates increase, typically a buyer's affordability diminishes. But in the Jumbo mortgage market, this becomes more prevalent for homebuyers as a rate increase has a more profound impact on this part of the buyer market 
If you have questions regarding current rates and how you can maximize your buying efforts, please give us a call at (760) 930-0569 and one of our loan officers will assist you.